Our Team
At King Arthur Baking Company, we provide our bakery customers with high-quality flour backed by unmatched technical support. Our bakery flour sales team members come from milling and baking backgrounds—which means we're knowledgeable about what you really need, and can offer the products and services to make your business a success.
call us: (877) 523-5687  (877-KAFLOUR)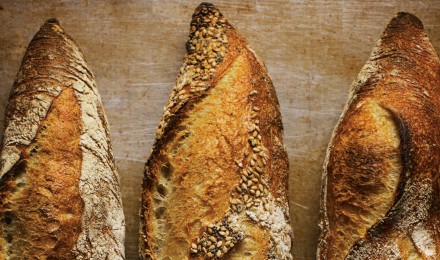 Shawna Goldfarb
Northeast Region Sales Manager, Bakery Flour Sales
Shawna Goldfarb joined King Arthur Baking Company in early 2012 as sales manager for bakery flour sales in the NorthEast region. She got her start in the baking world working for a bakery equipment manufacturer and has worked extensively with commercial bakers to determine the best processes and formulas for their desired products.
Shawna enjoys working with bakers to create solutions and help their businesses and products thrive. "Working for King Arthur Flour gives me the ability to start from the beginning of the process," she says. "I love being a part of a company's story, knowing I helped in some way to fulfill a baker's dream of success."
Shawna spent eight years working for WP Bakery Group and has been a member of the Bread Bakers Guild of America since 2004, and Retail Bakers of America since 2007. She is also a member of the Maine Grain Alliance and National Grain Grocers Association. Shawna grew up baking pastries with her grandmother and studied with many well-known bakers in the industry.
Nathan Hildebrandt
Midwest Region Sales Manager, Bakery Flour Sales
Nathan joined King Arthur Baking Company in 2010 as sales manager for bakery flour sales customers in the Midwest region.
Nate got his start in the field of baking while in culinary school at Kendall College in Evanston, Ill., where after one year he realized he didn't really like cooking – but baking was another story. "I think I liked the structure of it. With baking, you need to be precise," Nate says. "I love being in the bakery."
Highlights of his baking experience include cooking with his mentor Sanford D'Amato at events including James Beard House dinners, and Julia Child's 80th birthday.
After spending nearly 10 years making breads, pastries, and more in restaurants and bakeries in the Midwest, Nate moved out of the kitchen and into sales for Karp's Bakery Supplies (now BakeMark USA). "I really liked the quality of the product that they manufactured; it made the product easy to sell. And that's the kind of feeling I get at King Arthur, known as the top brand name in the flour industry," Nate says. "If I'm going to sell something, I have to believe in the product. People say King Arthur and it goes hand-in-hand with quality."
Nate enjoys working with the kind of high-caliber bakers who are committed to using the best ingredients for the best results. "The passion for food and quality ingredients inspires me, and I enjoy learning from the customers I work with, also," Nate says.
When he's not working with customers at their bakeries in the Midwest, Nate keeps busy with his wife and four children, all baseball fans and active members of their school, church, and the community of Beaver Dam, Wisconsin. Nate also enjoys bow hunting and sharing the pleasure of wild game with his appreciative family.
Mike McLain
South Region Sales Manager, Bakery Flour Sales
Mike McLain joined King Arthur Baking Company in 2013 as sales manager for bakery flour sales in the South region.
Mike attended the University of the South, Sewanee, TN and obtained his Bachelor of Arts degree from Incarnate Word College. An admitted "foodie," playing with pie dough scraps to make delicious snacks in his mother and grandmother's kitchens are his earliest memories. Mike's involvement in food sales began in New Orleans selling specialty coffee in the land of café au lait and chicory coffee. After 10 years of buying, roasting and brewing specialty coffee for others and in his Austin, Texas coffeehouse, New Orleans called him back. Mike focused on and introduced bakery and specialty products, including King Arthur Flour, to New Orleans over the next 17 years. Working as Sales Manager for the Koerner Co., a strong, family-owned, century-old, independent bakery and specialty products distributor in the vibrant New Orleans market, he developed supplier/partner relationships with traditional and historic bakeries, as well as innovative and acclaimed bakers and pastry chefs. This experience instilled in Mike a "can do" attitude wherein he provided relationship-oriented service to customers across the baking spectrum.
Joining the King Arthur Flour Family was an opportunity to extend the close ties between exceptional products and top baking professionals throughout the region and country. Mike was excited to accept his position with King Arthur Flour Co.: "King Arthur Flour is the premier flour company in the United States. You will not find a better company in terms of product, customer service and satisfaction, and citizenship." Employee ownership gives King Arthur Flour Company an advantage in business that is shared with all of our customers, experienced and novice, large and small—100% commitment to our mutual success through quality and values. As Mike puts it: "Our reputation is tested and our successful results are realized every day." Recognizing our history and presenting our cultures through baking is an important way to pass on well being to future generations.
Mike enjoys spending time with his wife and children in New Orleans. One of world's most unique cities, New Orleans shares its cultural diversity at restaurant dining rooms, cafés and kitchen tables—and Mike can be found at all of them. He also enjoys New Orleans' almost daily festivals, travel and new dining experiences. Mike is active in his church community in New Orleans, and is involved in bakery and pastry related organizations and events locally and regionally.
Jeff Yankellow
Western Region Sales Manager, Bakery Flour Sales
Jeff has experience in several aspects of the baking industry including work in restaurants, production bakeries, academia, and consulting. He is a graduate of Johnson & Wales University with degrees in Culinary Arts and Foodservice management. His career started in the savory side of the kitchen before transitioning to baking during an externship at the National Baking Center in Minneapolis.
Jeff is the Chairman of the Board of the Bread Bakers Guild of America and was a member of the 2005 Bread Bakers Guild of America Team USA that captured 1st place at the Coupe de Monde de la Boulangerie in Paris. He recently coached the 2012 team to a second place finish. He enjoys food related hobbies including gardening, cooking, and baking.
Jeff joined the King Arthur Baking Company team in 2012 and manages sales to bakery and food service customers in the western United States.